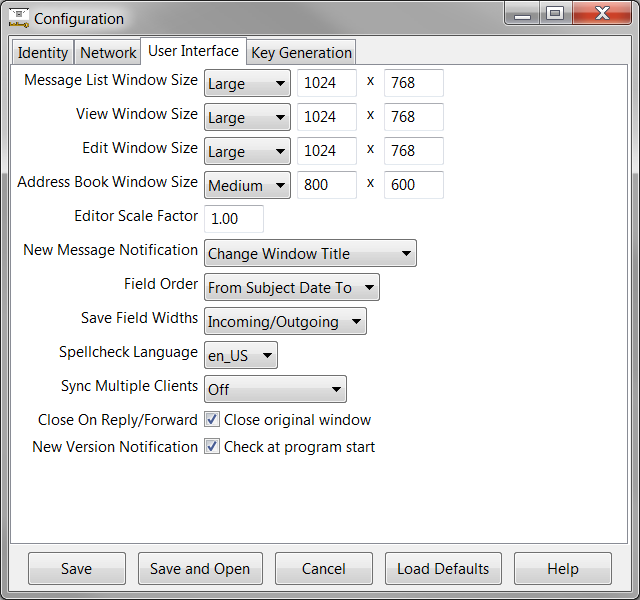 [Message List Window Size] - pixel dimensions of the message list window. Select one of the options or enter a custom value.
[View Window Size] - dimensions of the incoming message view window.
[Edit Window Size] - dimensions of the outgoing message edit window.
[Address Book Window Size] - dimensions of the address book window.
[New Message Notification] - select to change the window title and/or display a tray icon when new messages are pending. Most useful when automatic message checking is enabled on the Network page.
[Field Order] - order of the fields in the Message List Window.
[Save Field Widths] - save the width when message list fields are resized. Off = do not save, Global = one setting for all categories, Incoming/Outgoing = one setting for outgoing folders, another setting for incoming folders, Per Category = separate setting for each category.
[Spellcheck Language] - dictionary language for the spell checker.
[Sync Multiple Clients] - enables message and category sync between multiple clients sharing the same account.
[Close On Reply/Forward] - close the reading window when Reply or Forward is clicked.
[New Version Notification] - if enabled, the client will check for a new program version at startup, and if one is found, display a message at the bottom of the main window for one minute. This uses a DNS TXT lookup directly from the client.